Events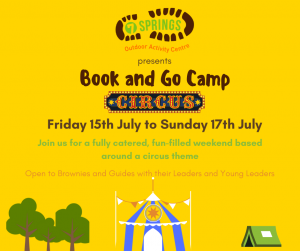 Book and Go – Circus – 15th – 17th July 2022
Join us for a fully catered fun-filled weekend camp with your Brownies or Guides.
A team will provide the programme and catering.  All leaders attending may be asked to help supervise some of the activities.
You will be responsible for your girls and will need to meet the required ratios for camping with your section.
You do not need to hold a Going Away with licence to attend this event.
Accommodation will be in tents.  A reduced rate applies if you bring your own tents.  We have a limited number of tents available so do book early if you wish to use these.  If you have not pitched tents before, help will be on hand to do this.
Get more information and download a booking form here
Pack up a picnic for 7 Springs
Pack up your picnic, find a fun place to hold it and order your badges. Badge sale proceeds will go to help maintain Seven Springs.
Take a look at our Top 10 picnic ideas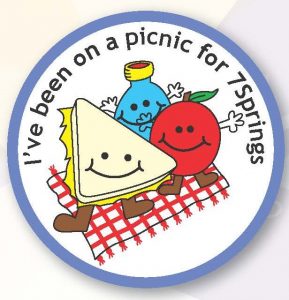 Hold a Platinum picnic with a royal theme.
Join with another unit or your District or Division for one big picnic.
Pack your picnic blankets and head to your local park.
Make a day of it – head up to Seven Springs and have fun out of doors.
Hold a Picnic Master Chef.
Hold a teddy bears picnic.
Have a picnic in an unusual place – under canvas, in the deep, dark woods, etc.
Invite families to your picnic
Hold a bring a friend picnic
Have a picnic by the sea
Open to all – Guiding, Scouting and Trefoil Guild
Download the info and badge order form here.