Activities
The following on-site activities are provided for your group to enjoy at no additional cost:
Adventure playground – suitable for children of 5 years upwards, this fantastic recreation area is available for all our visitors to use under adult supervision. Equipment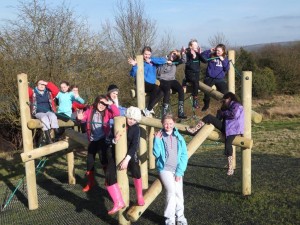 includes slide, adventure trail, giant swing, timber climbing frame and mini bouldering wall. Download the risk assessment here.
Butterfly trail – featuring brightly coloured butterflies fixed around the site, the trail is designed for younger visitors but can be used by everyone.  Activity sheets and suggestions for use are available and can be downloaded here.
Night line – A nightline is a rope trail that you follow either at night or during the day wearing a blindfold providing for a completely unique experience our visitors love.  There is one night line course available on site.
Basic orienteering – equipment and written instructions are available in all buildings and campsites.
For a small additional fee we also offer a facilitated service (to book please e-mail office@girlguidingmanchester.org.uk):
Grass sledging – there are four grass sledges available for hire at a cost of £12 per pair per hour.  These need to be booked in advance by e-mailing office@girlguidingmanchester.org.uk.  Download the risk assessment here.
Your own risk assessments will need to be completed where appropriate.
On-site equipment
The Ash Centre is home to a treasure chest of bats, balls, goalposts, racket, frisbees and even swing ball for visitors to have fun with. It is available for use free of charge by anyone camping or staying with us.
BBQs –  There is a charcoal BBQ situated near the Ranger Den for which you will need to bring your own fuel.
Local activities
Many of our visitors like to stay on site and fill their days exploring our fabulous 32 acres of outdoor space but there are lots of great activities available locally too.
Lyme Park: once an historic hunting estate, it is home to ancient deer herds, glorious countryside, large duck pond, gift shop, Crow's Nest adventure playground, coffee shop and restaurant and is within easy walking distance of Seven Springs.
Buxton: less than 30 minutes away by train, Buxton offers everything from cafes to caverns, spa to shops and museums to music venues. Well worth a day trip!
New Mills Leisure Centre is approximately 1 ½ miles from the site. Facilities include squash courts, modern gym and swimming pool.