Build it Better
Build it Better campaign
Over more than 40 years, The Venture House has served us well, giving shelter and warmth to hundreds/thousands of visitors. But it's seen better days and now we're on a mission to knock it down and #builditbetter so we can provide young people with a great base for their outdoor adventures.
At our Trustees meeting on 15th June 2016, it was agreed to launch a fundraising campaign to raise £500,000 to create a new residential building for use by youth groups.  We aim to have this new facility in place by 2020.  This is a major project for the site and we need everyone's help so please get involved!
2017 activities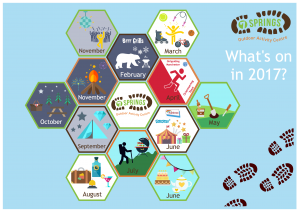 We have a whole range of fundraising events taking place on site in 2017.  For more details click here or for details of our challenge badge see below.
7 Springs Challenge badge
Our fundraising get's underway with our 7 Springs Challenge badge and will run until we are out of badges!  It's a badge designed for all youth groups to try, from Guides and Scouts to Girls and Boys Brigades.  You can download the syllabus and accompanying templates via the links below.
Seven Springs Challenge – Full Syllabus and instructions