Step up for Seven Springs – September 2018 to July 2019
Help us to raise £1,000 this year by organising a "Disley to Disney" event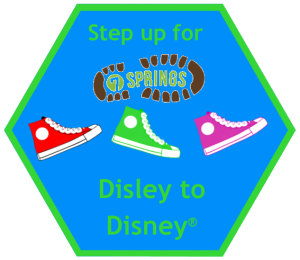 Challenge yourself and be sponsored, as an individual, group or unit, to do the number of steps required to walk from Seven Springs in Disley to Disney®.  Remember you have all term!  All you need is a pedometer or a smart phone with a pedometer.  If completing the challenge as a unit, one person can count the steps and you can multiply by the number of people taking part.  Approximate step counts are:
Disley to the Disney Store, Manchester = 35,000 steps
Disley to Disneyland Paris = 830,000 steps
Disley to Disneyland California = 10,000,000 steps!
But if that sounds like too much hard work, don't worry!
You could dress up as Disney® characters and go for a walk;
or go for a walk round your local area one week and have a Disney® themed evening another week.  As long as it involves doing some steps and something with a Disney® theme, it counts!
Who? 
Anyone including members of Guiding, Scouting and the Trefoil Guild.
How will it raise money? 
If you're setting yourself a steps challenge, then be sponsored!  You can download sponsor form here. There is also a badge! If you raise a minimum of £10 per person then we will send you the badge for free. Or you can buy the badge for £1.20 each (plus p&p).
What next? 
Download a sponsor form ; order your badges; and get stepping!
Once you have completed your event, you can send us your completed sponsor forms together with a unit cheque for the total amount.
Good luck! 
*It is the leader's responsibility to ensure that all requirements of the relevant organisation are met.